Article
Water Safety New Zealand

The Drowning Prevention Summit 2019 was held with the water safety sector at a cross roads.
A step change in the focus and delivery of drowning prevention activities in New Zealand was required in order to address New Zealand's drowning problem.
Water safety organisations from around the country gathered in Auckland on 31 October 2019 to address the need to innovate and adapt in a changing world.
The Drowning Prevention Summit 2019 was a time for water safety sector members, partners and stakeholders to get together to hear about the step change coming to the sector. The water safety sector needed to secure long term support to ensure sustainability, and to adapt and become smarter and more dynamic in order to bring down New Zealand's drowning toll. It was clear that business as usual was no longer good enough.
The Drowning Prevention Summit 2019 promoted a clear and compelling vision of a changed future and identified the challenges the sector must over come to meet its goals. The goal was to inspire those in attendance to become change-makers in their own organisations.
New Zealand's drowning problem is a complex one, with a very diverse and growing population and very high participation rates across a wide range of different activities and aquatic environments. There was a widening gap between the water safety sector's ability to meet growing expectation and demand. This is a sector which relies on volunteers and vulnerable funding streams and resources were stretched beyond their capability.
At the Drowning Prevention Summit 2019 Water Safety New Zealand promoted a clear and compelling vision of the desired future, identified the challenges the sector must overcome and inspired leaders and organisations to become change-makers.
| | | |
| --- | --- | --- |
| Danny Tuato'o - WSNZ Chair | Janine McLees - Fire and Emergency NZ | Melissa Clark Reynolds - Futurist |
Hosted by MC Stacey Morrison and following a video address from Hon Poto Williams, Minister of the Community and Voluntary Sector, Danny Tuato'o the independent chair of the board of Water Safety New Zealand delivered his keynote speech on 'Why the water safety sector needs to change' - "In an ever changing and evolving world if you are treading water you are going backwards. The challenges presented by climate change and rising sea levels are already being felt by surf clubs. The cost of relocation will be significant for some and raises questions about how organisations need to evolve, and whether efficiencies can be identified".
The next speaker was Janine McLees from Fire and Emergency NZ who talked through the FENZ Integration programme and how they are managing change and implementation through a major organisational transformation.
After lunch futurist Melissa Clarke-Reynolds then spoke on 'Facing the Future with confidence'. This was followed by a 'Changemakers Panel' on 'How water safety sector people are responding to the change imperative'. On the panel were Adam Wooler from Surf Life Saving New Zealand who talked through evidence based delivery. Amiria Mita from Waka Ama NZ talked on Water Safety engagement through Waka Ama. Sheridan Bruce from WSNZ then discussed growing the Water Skills for Life education initiative for children in years 1 to 8. Clare Bradley the Chief Executive of Aspire2 talked on their water safety work with international students. This was followed by a lively and thought provoking open mic Q & A session .
WSNZ CEO Jonty Mills then gave his keynote address 'Next steps – Beyond 2020 the Water Safety Sector Strategy'. He told the audience "A shift in the focus and delivery of drowning prevention activities in New Zealand is upon us. This summit is about beginning the conversation. Preparing ourselves for change and how we can be most effective at drowning prevention. The future starts today". - Read the full address here.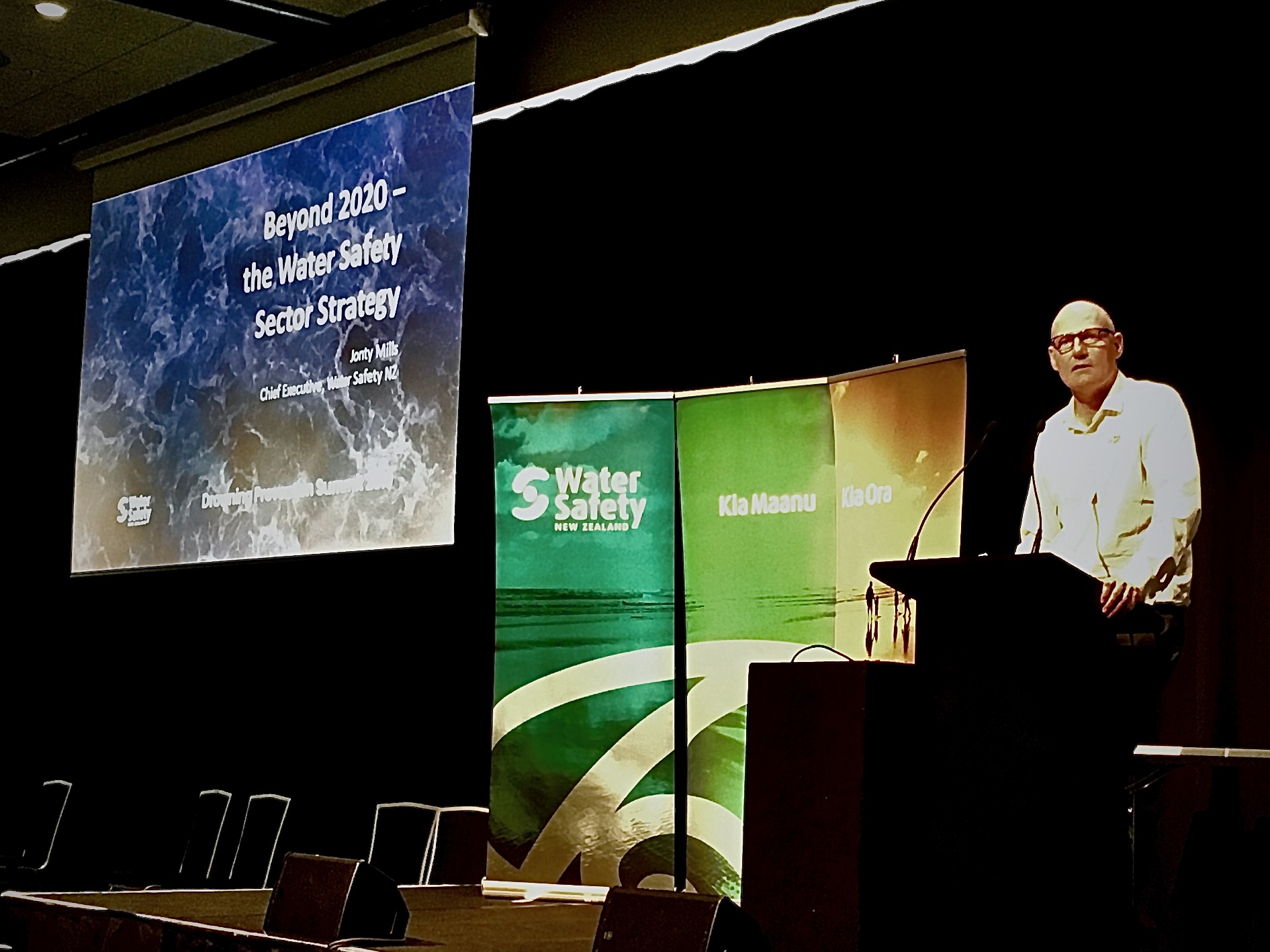 Water Safety New Zealand CEO Jonty Mills makes his keynote address - read it here
Jonty Mills discussed the future shape of the sector which is part of the work of The Water Safety Sector Capability Plan - a set of actions to be undertaken in the short, medium and long term to help address the water safety sectors' capability, capacity and effectiveness in drowning prevention.
The plan has been developed, driven and owned by the four core drowning prevention agencies – Water Safety New Zealand, Surf Life Saving New Zealand, Coastguard New Zealand and Swimming New Zealand, together with a number of sector partners and interested parties.
"This work will inform the future direction of the water safety sector and help us to become world leading and I hope a country where we work towards a zero preventable drowning toll".